Main Information

SpaceVac Go Back To School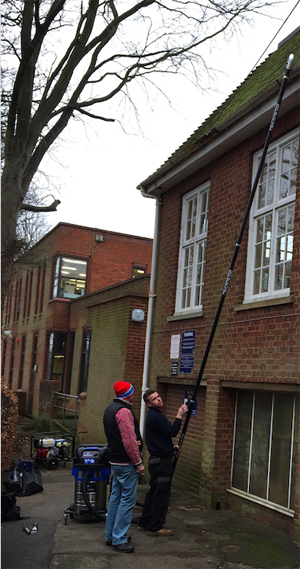 Published on 02/03/2015
SpaceVac has gone back to school after a Hertfordshire secondary school utilised their services to clean their hard to reach gutters.

Hitchin Girls' School (HGS) continuously monitors its maintenance costs and their value for money, and gutter and high level indoor cleaning had become particularly expensive, as each task required scaffolding totalling more than £5,000 every two years. Gutter cleaning is an essential annual task but budgets only enabled it every 2-3 years.

The result was blocked gutters and downpipes which regularly overflowed, causing dampness to the brickwork and expensive rectification.

Tony Hankin, HGS's Director of Finance and Resources, bought a SpaceVac high level vacuum powered cleaning system to enable annual cleaning of the gutters (four storeys high) and high ledges in the gym.

He said: "The SpaceVac system is an obvious solution – we bought the kit and many accessories including some tools specially made for our needs. This package was less than the cost of a one week's scaffolding hire. We can clean high level beams and gutters when required and not only when budgets allow. There are now no damp walls to repair and we have this kit for life, saving £2,500 per year on scaffolding."

SpaceVac provided a free demonstration and after sales staff training, so the school can now put high level cleaning on the monthly maintenance schedule.

The school is in a Conservation Area with more than half of the property inaccessible by cherry pickers, and scaffolding is impossible in some areas – now everywhere, inside and out, is constantly maintained in top condition and cleaned as often as is required with no worries about working at heights.