Main Information

Sealed Air Step Into Robotics with Intellibot Acquisition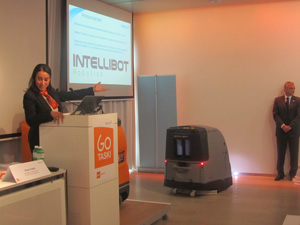 Published on 17/04/2015
At a special press conference in Zurich this week, Sealed Air announced the acquisition of certain assets of
Intellibot Robotics LLC
, a US-based privately owned company that is pioneering the development of commercial floor cleaning robots.
The acquisition includes certain intellectual property, the manufacturing operations in Virginia, as well as sales, production and engineering staff. The business will be integrated into Sealed Air's
Diversey Care
division and their brand of TASKI floor cleaning machines.
The rapid development of new technology, alongside labour shortages and the need for higher productivity in everyday cleaning tasks, has led to an increased demand for automated cleaning machines in the world's more developed countries. And Intellibot's value proposition is based on 'hands-free' cleaning robots that improve the economics of cleaning by reducing labour costs and increasing productivity.
Dr. Ilham Kadri, President of Diversey Care, said of the acquisition: "This is another example of how Sealed Air is changing the game and it positions Diversey Care as the first hygiene and cleaning player to enter the industrial robotics arena. Our industry expertise, global reach, design and manufacturing capabilities, combined with Intellibot's groundbreaking artificial intelligence technology, will help accelerate the development of the robotic floor cleaning machines market – ultimately driving efficiencies and business value for our industry."
The Intellibot machine is currently being introduced in the US, and Diversey Care expects to roll out the machine across Europe in the next few months.
Find out more about Diversey's special press conference and the Intellibot in the May issue of Tomorrow's Cleaning.
www.sealedair.com