Main Information

Diversey Care and ECMR join forces to recycle cleaning machines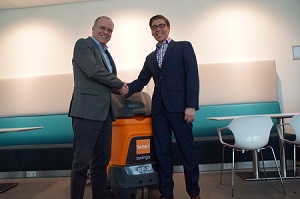 Published on 09/05/2016
Last month, European Cleaning Machines Recycling (ECMR) and Diversey Care entered into a two-year contract to recall and recycle Diversey Care machines.
The deal will see ECMR be responsible for recalling all machines and related equipment after they have come to the end of their lives, having been used by Diversey at their customer sites.
André Vonk, co-founder of ECMR, said: "Diversey Care has opted for a sustainable solution in which ECMR is able to both dismantle and recycle the machines in a sustainable manner. The social and transparent way of working, as well as optimal recycling of rare fossil-based raw materials, thereby forms the common goal of commitment to a circular economy."
The decision to recycle machines is in keeping with the '2020 sustainability objectives' set by Sealed Air worldwide. "All Diversey Care machines that can no longer be used will be presented for recycling," added Henk Toering, Country Director for Diversey Care.
"The way we view sustainability and social responsibility means we believe it's extremely important that we process the residual flow, which can no longer be used, in as sustainable manner as possible. We are thereby demonstrating our responsibility and commitment from cradle to grave", explained Toering.
One of Diversey's aims is to recycle machines as far as possible by reconditioning them and selling them as occasion products. "We are doing this on a European scale," Toering continued.
"At all times, we try to process machines which we decide can no longer be reconditioned and used profitably in a responsible manner. We believe that recycling is the best way of separating different materials, so that they can be reused in another industry. To reduce the impact on the environment, we have opted to recycle locally as far as possible, as this prevents unnecessary transportation and increases transparency."
Vonk added: "If we continue to obtain fossil-based raw materials from the earth at the same pace as we're currently doing, in around 45 years' time, all the raw materials that are important to industrial applications will have disappeared.
"Machines are currently 95% recyclable, but unfortunately a large number of machines and equipment are still ending up in landfill sites.
"Returning the recycled raw materials to our partners is one of the challenges we currently face. Via our contacts, we make a distinction between contaminated raw materials and those that have been washed clean, as is the case with the plastics, for example. Raw materials can be recycled into various applications such as roadside poles, public benches and other applications, for which these are now being recycled."
www.ecmr.nu