Makita has expanded its range of 40VMax XGT vacuum cleaners with the VC008G Brushless Backpack Cleaner, and the CL003G Brushless Vacuum Cleaner.
Both models have been designed to offer greater flexibility, productivity, and ease of use for cleaning professionals.
The 40VMax XGT Brushless Backpack Vacuum Cleaner (VC008G) delivers up to 195W of suction power and a 2L dust capacity in a compact, easy to use machine. The cleaner includes a HEPA filter to remove 99.97% of particles of 0.3 microns or more, for a cleaner indoor environment. It features a telescopic pipe with a locking mechanism for a secure connection to the flexible pipe section, as well as a T-nozzle with a hard flooring and carpet mode selector. The VC008G also has a mechanism to prevent the dust bag compartment closing when the bag is not installed correctly.
The harness design means the backpack vacuum cleaner, which weighs just 5.3kg, is comfortable to wear and includes a mesh material on the shoulders, back, and waist areas. It also features a convenient carrying handle for easy transportation.
Also added to the range is the 40VMax XGT Brushless Vacuum Cleaner (CL003G), a compact cordless stick vacuum cleaner that delivers up to 100W of power and a sealed suction of up to 20kPa. A new cyclone unit integrated onto the cleaner's main body, and positioned above the extension pipe, gives the cleaner a more compact design. This means increased cleaning efficiency as the cleaner body will not make contact with the floor or surrounding objects when cleaning narrow spaces. The new cyclone unit also separates more dust from the air to minimise filter clogging.
Both the VC008G and CL003G have four power settings with a mode memory function for easy operation. The efficient brushless motor included in both cleaners eliminates friction and wasted energy to deliver more power and longer runtimes per battery charge.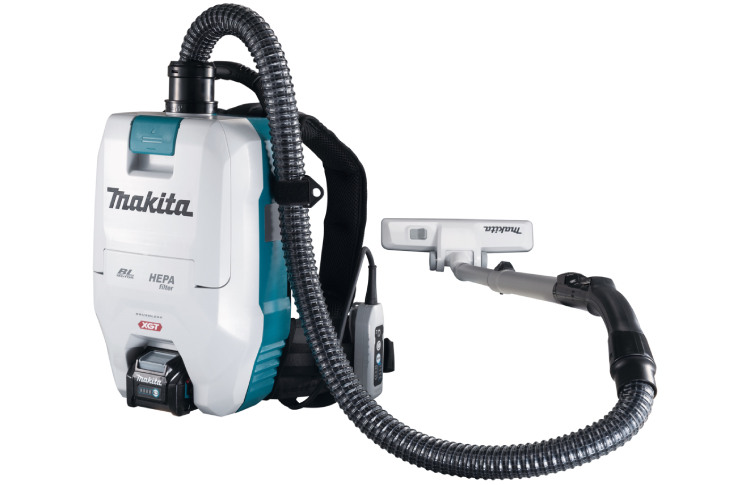 Makita has also added new 5.0Ah XGT power source kits to its range, ideal for users of XGT tools who want to invest in additional batteries. There are four kits available, with either two or four 5.0Ah batteries and a 110v or 240v DC40RB twin port fast charger. The kit is supplied in a Makita MAKPAC case for easy storage and transportation.
Kevin Brannigan, Marketing Manager at Makita, said: "Our 40VMax XGT cleaning range provides the power and run-times that professionals require for enhanced productivity. The addition of VC008G and CL003G provides cleaning contractors and facilities managers with effective and efficient options to suit their particular needs."