Main Information

ETS announces Cartoon Contest winners for Global Handwashing Day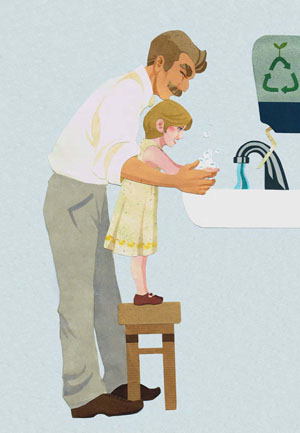 Published on 26/10/2014
Young graphic designers from around the world have scooped the top prizes in this year's European Tissue Symposium Cartoon Contest, coinciding with the celebration of Global Handwashing Day.

The winning graphic designs will be exhibited in Bologna and showcased on a dedicated Facebook page, and in the months ahead they will also feature as part of a wider social media roll-out stressing the importance of good hand hygiene in preventing the spread of infection and promoting good health.

Elisa Canaglia, from Italy, won first prize in the ETS Academy Cartoon Contest for her design, "Our Future". Elisa has already entered the contest on previous occasions, and following her win, she said: "This time, I wanted to approach the theme in a totally new way. I am passionate about reinventing the way we look at things and am delighted to receive this award. Hand hygiene is such a key part of our daily life, that's why I depicted its importance in a childhood memory almost everyone can relate to."

Rahim Biyarash won the International Cartoon Contest for his design, "Soap – paper", and in presenting the award, chairman of the judges, Christian Ghisellini, said: "Rahim charmed us with his extreme synthetical design and ironic approach. He has captured the concept and the theme perfectly." Each of the first prize winners will receive €1,000.

Three specialist ETS prizes were also awarded to Erica Dalle Luche for "Just Relax With Tissue", Martina Tonello for "Soapy Pirates" and Chiara Martinelli for "Racoon".

The awards were announced on Global Handwashing Day, an important feature on the annual calendar of Governments, schools, NGOs, private companies and scientific organisations around the world promoting good hygiene and health. On this day, people are encouraged to hold events and celebrations that support a global culture of handwashing.

Handwashing with soap could save more lives than any other medical intervention and is critical to meeting the Millennium Development Goal of reducing deaths among children under 5 by two-thirds by 2015.

Roberto Berardi, Chairman of the European Tissue Symposium, said: "ETS is highly committed to communicating on the importance of hand hygiene. That's why we're very happy to support young graphic talent helping us to visualise this noble goal for a broader audience on this dedicated hand hygiene day."